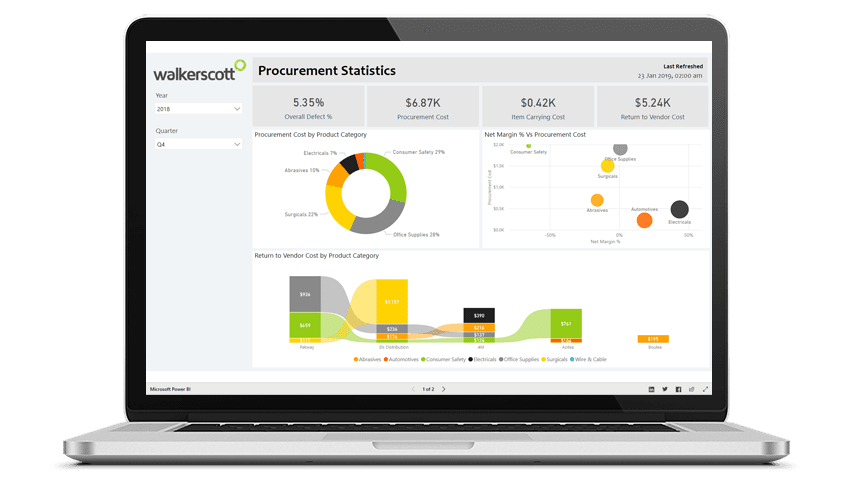 Procurement Analytics
Optimize your product procurement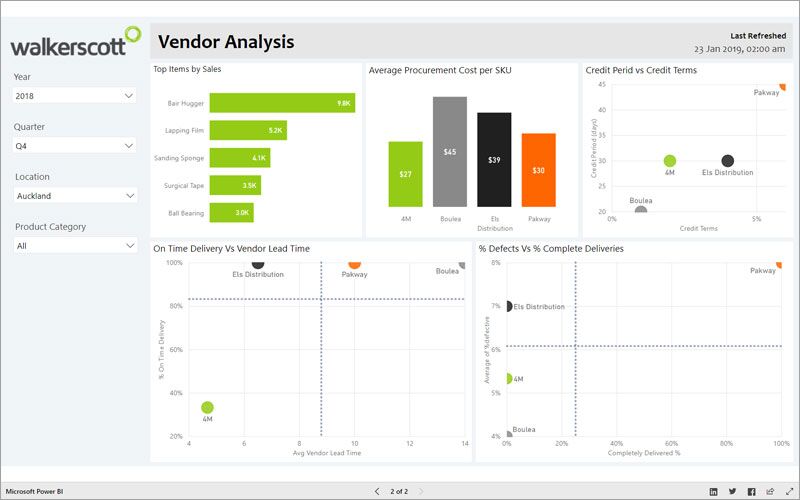 Designed to easily analyse procurement effectiveness.
This solution is designed to enable business managers to easily analyse their procurement effectiveness in a sophisticated manner. It is customized for multi-industry conglomerate based in New Zealand but can be branded or configured to your specific industry, business unit and vendor structures.
Key Benefits of using Power BI for Procurement Analytics
Identify problem areas and devise effective and targeted interventions through:
Understanding procurement and return-to-vendor costs and their correlation with net margin across product categories and vendors at a high-level
Analysing vendor performance in terms of reliable delivery, defects and lead time at a high-level across locations and product categories and drilling down into important SKUs
The solution comes with all the out-of-the-box functionalities within Power BI – ability to:
View and subscribe to reports on the go on the Power BI mobile app
Set up alerts to notify you when data in your reports changes beyond limits you set
Connect to other relevant data sources and mash these together
Transform data and add new metrics and reports / edit existing reports
Perform adhoc analysis and dig deeper using the built-in analytics capabilities
Collaborate on and share customized dashboards and interactive reports
Keep data secure while giving user groups access to the insights they need
Try our Live Demo Below:
Browse through dashboards and click to interact with graphics and stats.
Walkerscott are Experts in Microsoft Business Applications with specialties in Microsoft Dynamics 365, Power Platform and Application Modernisation. Get in touch with us to help you find the best solution for your business needs. Talk to a Clever expert.
Call Us
Email Us