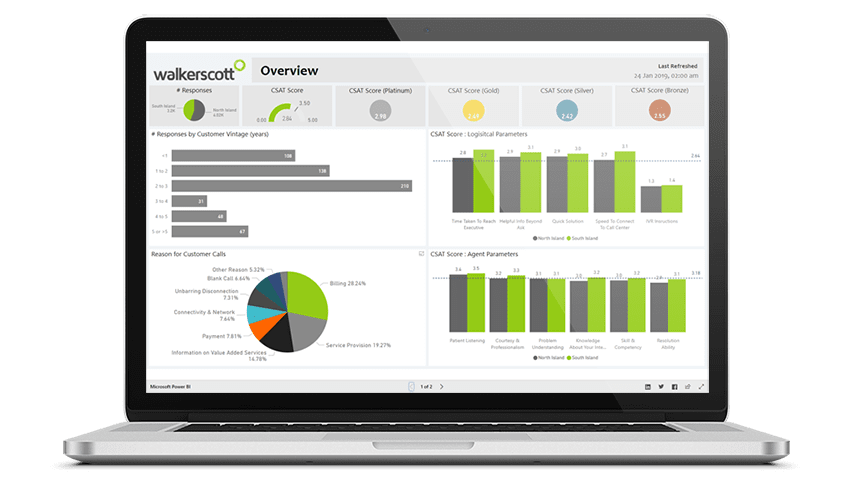 Customer Satisfaction Survey Analytics
Turbocharge your survey analytics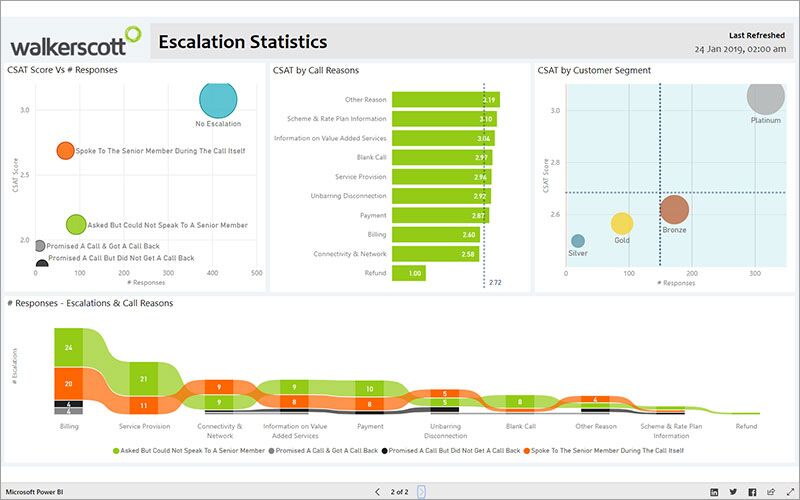 Designed for immediate survey interpretation.
This solution is designed to allow for immediate survey interpretation, enabling business managers to easily complete end to end analysis of their survey data without relying on a separate team of data scientists, promising higher productivity and significant reduction in cost of crucial survey programs.
This solution contains a selection of common customer response and escalation scenarios. It is customized for a call-centre experience at a telecom industry giant in New Zealand but can be branded or configured to your specific industry and function.
Key Benefits of using Power BI for Customer Survey Analytics
Identify problem areas and devise effective and targeted interventions through:
Understanding response volume distribution and customer satisfaction scores across regions, and customer vintage and segments
Identifying drivers for call quality and satisfaction scores across customers segments
Analysing drivers for escalations and satisfaction scores across customers segments
Extend the solution to track survey results across multiple campaigns and time horizons
The solution comes with all the out-of-the-box functionalities within Power BI – ability to:
View and subscribe to reports on the go on the Power BI mobile app
Set up alerts to notify you when data in your reports changes beyond limits you set
Connect to other relevant data sources and mash these together
Transform data and add new metrics and reports / edit existing reports
Perform adhoc analysis and dig deeper using the built-in analytics capabilities
Collaborate on and share customized dashboards and interactive reports
Keep data secure while giving user groups access to the insights they need
Try our Live Demo Below:
Browse through dashboards and click to interact with graphics and stats.
Walkerscott are Experts in Microsoft Business Applications with specialties in Microsoft Dynamics 365, Power Platform and Application Modernisation. Get in touch with us to help you find the best solution for your business needs. Talk to a Clever expert.
Call Us
Email Us